Posted by: rck on 2004-04-27 22:14
Updated by: rck on 2004-05-03 00:38
Expires: 2009-01-01 00:00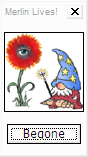 Merlin, der kleine Photoshopzauberer
Kennen Sie den schon? In Photoshop haust ein kleiner Zauberer. Kein Wunder, dass das Programm so gut ist!
- Open Photoshop.
- Hold down the Alt (Windows) or Option (Mac) key.
- Go to the layer palette and click on the arrow for the layer palette menu.
- Drag down and select "Palette Options" from the menu.
- Say Hello to Merlin, the little wizard.
- Press "Begone!" to hide Merlin.
(aus:
Design by Fire
)
Sie möchten Ihr System absichern? Oder ein EDV-Projekt umsetzen? Vielleicht auch etwas Hilfe zur Installation von Software- und Hardwareprodukten? Kein Problem, schicken Sie mir einfach eine Mail! Ich schreibe Ihnen unverbindlich zurück, was ich für Sie tun kann.

Meine Mailanschrift: Rene (Klammeraffe) Kiesler (Punkt) at