I've been using phpWebSite for about a year now and think that it can be adapted to most content management needs. TYPO3 is leading the open source CMS market right now and has very powerful features no other CMS can offer.
Still, I think phpWebSite is the better choice most of the times. I will show you why.
phpWebSites
www.groenlandseksperten.dk
'>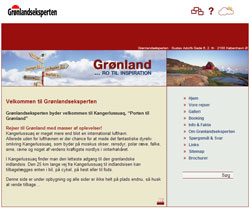 Grønlandseksperten
The danish webdesigner company LiquidArt created a wonderfully customized phpWebSite installation for Grønlandseksperten here. You can see the integrated phpWebSite search here as well as the menu module.
Instead of Article Manager, the pagemaster module is used for content here. Btw. MosMensk, member of that company has released his phpWebSite theme lasse on this very site.
This is the prototype of a phpWebSite installation for the INSO Institute of the technical university in vienna.
Making it took less than a week. sammael created the theme for the site, I filled in a bit of content.
Even bigger companies like Mazda germany trust in phpWebSite. The site has been customized by Christian, who's also the driving force behind the german phpWebSite community.
You can easily see here, that phpWebSite is able to support commercial sites as well.
The LEGO Robotics Group of Ann Arbor is one of many examples for an organization website based on phpWebSite. Jona Jeffords converted the old collection of static pages to phpWebSite not too long ago.
To underline my point of "churches are using phpWebSite", here's a very special link for you I've just discovered in google. A hosting company specialising in phpWebSite installations for churches!
read about phpWebSite Hosting for Churches
TYPO3
plug|one
Alexander Fiss from Solingen, Germany did an amazing TYPO3 site here. While you won't see anything here you can't do with phpWebSite, it is proof that TYPO3 sites can be extremely good looking.
Pixelegg is a webdesigner company, that specialises on customized TYPO3 sites. You can find a lot of reference sites there. They especially like doing sites for public mechanisms
Marlies Cohen isn't only TYPO3 consultant. She also does tutorial writing and custom documentation. You can find a bunch of pictures on her site.
visit Marlies Creative Universe
Orange Kiwi seems to be some kind of architecture bureau. It has a very nice, bold design, done by Espace Courbe. Be warned: This site is using flash with sound...
And here's a cute thread from a christian forum for you. The introduction, which is also a good summary for me:
"Seems really neat and well put together, but sharp learning curve."