Immutable Page | Raw Text | Print View | History
---
Flexo7 > TechnicalArchitecture
The Big Picture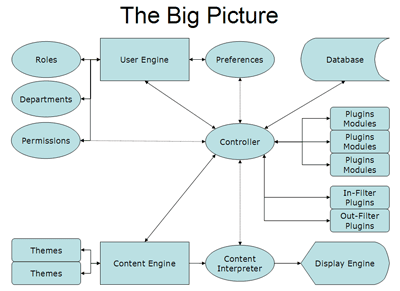 Flexo7 has 4 main parts:
The ControlLer?
... is the core of Flexo7
... controls the interaction of all the other parts of Flexo7
... can be enhanced by Plugin Modules, Plugin Import-Filters and Plugin Export-Filters
... communicates with all the other parts through events
The UserEngine?
... is responsible for Authentification as well as Rights-Management
... has a built-in Roles / Departments / Permissions concept
... is also responsible for UserPreferences?
The ContentEngine?
... collects and stores all content
... uses content interpreters to show content through the display engine
... maintains the central content database
... has only ONE major content table concept, which is responsible for

versioning
multi-language
workflow
The DisplayEngine?
... is called through an display-event, for example through the ContentEngine?
... can display to screen, pdf, or rss feed

Last modified 2005-11-15 21:05 by rck