Granted, Ajax is right now the shooting star amongst JavaScript technologies. And it is cool, think about the improved user experience through better responsiveness. But there are other interesting JavaScipt projects too, maybe a bit hidden behind all that glamour that is Ajax.
A very cool library I discovered recently is Walter Zorn's DHTML Library, enabling programmers to support Drag N Drop amongst other things. Crossbrowser compatible.
A small demo
www.kiesler.at/static/playground/drag/chess.html
'>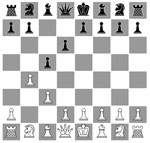 chess prototype
So I took the Drag N Drop Library and wrote a very small example. Basically, I'd like to write a nice two person chess module one day. With Ajax and all bells and whistles.
Until I find the time to do that this little prototype should do. It's working perfectly with Internet Explorer 6, Fire Fox 1 and Opera 8. And it was very easy to implement.
Features
Works in all browsers, said to work even in Netscape 4
Only needed graphics for the pieces
Very simple markup
Easy to use