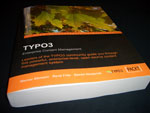 I've been asked to review a book. It's called Typo3 Enterprise Content Management, it's about Typo3 and it contains a lot of information.
In this article, I'm trying to find out the focus of the book, the target audience and try to write a bit about its content, too.
Conclusion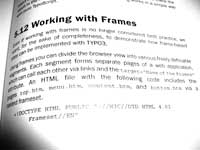 This book is well written and quite exhausive regarding the technical aspects of Typo3. You will find everything about installing, administrating and extending Typo3 in here. Probably more than you wanted to know in the first place.
Personally, I learned quite a few interesting things about Typo3 in here and probably would have bought that book by myself. Still, this book is not for everyone.
Who will benefit?
First of all, Typo3 is a complex beast. It can -- with the proper programming -- do about everything you could imagine about a web application or web site. Typo3 seems to be suited for individuals, who have the resources and are willing to learn Typo3 which can be a challenge.
The book is clearly targeted at companies. Employees, who have the task of implementing Typo3 in a company or already are using Typo3 there will like this book. Especially, if they prefer printed paper to online documentation.
Who will be disappointed?
If you haven't yet decided which CMS to take, let me assure you: There are a lot of CMSes out there. Granted, Typo3 is one of the most known there is. But it might be more than you need and give you headaches. Also, it is lacking a few things like content versioning, Windows NT login or a content staging concept.
Deciding, which CMS to take is a responsible and at times complicated task. This book won't help you here. Also, it does not explain the various types of CMSes (classic content management, community portals, bulletin boards, blogs, ...) and is very brief regarding styling your site.
You will be disappointed as well if you are looking for example Typo3 sites and how they where implemented.
Details about the book
The book is called
TYPO3
Enterprise Content Management
and published by Packt Publishing.
I have reviewed the first edition, it has the ISBN 1-904811-41-8 and its own homepage.
The book is USD 59.99, £ 36.99 or € 54.99, depending on your location.