I had an idea on Sunday. What, if I'd try to make phpWebSite look less like a content management system and more like a Designers site?
While I am no designer, far from it, I did some googling and came up with a nice singlecolumn layout. Combine it with a banner-image and the corresponding Swatches and you get Emotions. Or Schloss.
Proof of concept vs. assembly line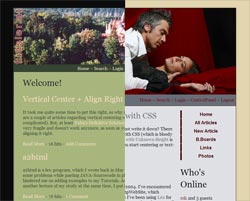 Emotions vs. Schloss
Emotions has some kind of innovative touch on it. Look at the nice fonts and their sizes. Look, how the colours blend in each other and fit perfectly. Mind the two menus, the single column layout with the integrated sidebar. Good bye functional design, hello graphical design!
Schloss on the other hand was done in less than a hour (Emotions took two days). Scan image, choose swatches, enter the colours in the stylesheet, change the topmenu a bit, that's it.
Try them out
Registered users simply choose their preferred layout from the Control Panel. So, if you are fed up with Polar, give them both a try. Even if you like Polar, Emotions and Schloss are refreshingly different. Like in completely different.
Enjoy!