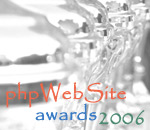 What can be more thrilling than a nice and fair competition? A competition of skilled webmasters and webmistresses, gifted and proven masters of phpWebSite? Well, I could think of a couple of things. Anyway, here's the plan.
There are three categories: Commercial, Non-Commercial and Creative. Commercial and Non-Commercial sites should be an obvious distinction. But what about the creative ones? This category is for "most creative phpWebSite use" and requires the participating sites to have either a self-made theme or at least one self-made module.
Update
: We have a winner! The
Femme Fatales
got the most votes and thus won the phpWebSite awards 2006. Congratulations!
NeinAffeNein
NeinAffeNein
During my travels to the Internet, I once in a while look for phpWebSites. Sites, that are special. During one of those sessions, I also stumbled across NeinAffeNein from Dr. Katze and was a little bit confused. It didn't look like a phpWebSite at all. Instead, all kind of colourful animated GIFs, some insane content and a lot of interesting stuff.
NeinAffeNein is confusing. I almost got it disqualfied. In fact, I already sent Mr. Bullock and Mr. Borgh that they are second and third. Why? Because there's
http://neinaffenein.com/
, which is WordPress based, has the name of the submission and looks just the way
http://www.doktorkatze.de/
looks. Anyway, NeinAffeNein is the official second -- congratulations!
Burghfield Sailing Club
Burghfield Sailing Club
relies on Page Master as a main content container, similar to the Femme Fatales site and NeinAffeNein. Most of the content seems to be "hand-made", except the calendar entries. The Burghfield Sailing Club has a nice, clean logo and an non-intrusive background.
What I don't like too much about the site is -- again -- structure. Different to the Femme Fatales, there's only one menu here. But it is very crowded. 26 (!) menu entries wait to be opened by visitors, this is way too much. I'd split the menu up into maybe 3 or 4 groups. Again, the forum here is not phpwsbb but a separate phpBB installation. Also it would be nice, if the images used for news would be of equal size and if there was more white space between the boxes, maybe even some kind of optical distinction between the side-columns and the main content area.
GeoVUsie
GeoVUsie
site is really good in that regard. There's a clear separation between task-groups and tasks. Also, from the three sites having a calendar, this one seems to be the nicest one :-) If I had some money to spare and would be able to read the order-form, I'd surely would order one of those.
But why did GeoVUsie only become fourth? It can't be because of lack of use of phpWebSite features. GeoVUsie makes use of the native phpWebSite forums, too has a poll running, too uses the calendar and has good structure. Still, the site might be a bit too dark maybe. Also, it is not written in English, thus most people probably didn't "get it". Too bad, that site sure has potential.