Today I broke my foot at my every wednesday California Workout. It happend fast, it made a cracking noise, it hurt a bit. On the other hand, it didn't hurt as much as rendering me unable to finish my Workout.
Just another day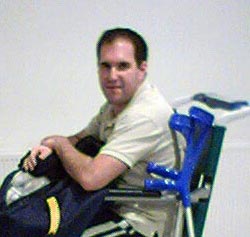 wheel-chair
Today was a strange day. My coffee machine started brewing at exactly 7 o'clock, as it's supposed to do. I stood up the way I should, everything went on flawlessly. Quite uncommon.
I parked my car in the Donau Zentrum, drove to the economic excercise like every wednesday. Then I went to the Dekanat to get my proof for my bachelor there. I'm bachelor! Yes, I've been able to inscribe for the Master today. Quite neat.
After a chitchat with my father at his flat I attended the economics main lecture and drove home again afterwards. Then I had the strong feeling not to go to California Workout. Like las tweek when I was missing also. I was exhaused. Still, I forced myself to go there.
The workout
We didn't do the usual warmup. Our trainer Heidi was absent from the last weeks excercise like me, she had a sublement trainer who held her course. Heidi called in ill and didn't quite recover as of today.
We took out the Steps, put them all over the place and ran around. Then the music started to play, everyone had to step on a step and do his workout. The last to know what's going on had to do some other excercise.
After a while, more and more Steps were taken out. Those who didn't manage to get a free step had to do extra exercise. Quite exhausting.