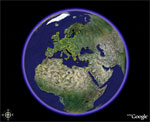 Google Maps is a huge success. And a nice example for another successful Google application. Too bad that there are only maps about US and UK.
Google Earth is the next cartography attempt of Google. And it's even more successful. It is apparently so successfull that Google even had to temporarily disable the download of it. Download? Yes, it's a windows program, based on Direct X.
What's in?
www.vatican.va/
'>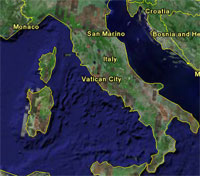 the Vatican
So what can Google Earth do? It shows the earth. In 3D. You can rotate it, tilt it (change the viewing angle), move it around and zoom in.
Zooming in is where the fun begins. You can enrich your display by various informations. Stuff included:
Roads
Borders
Terrain
Buildings
etc.
And the application is fast. I'm running it on my trusted Athlon 1.2 GHz with 1 GB RAM. Google Earth seems to be using about 120 MB of it. And it does quite some swapping on my C drive. Still, it is very responsive.
Downsides?
Is there room for improvement? Are there any downsides? Well, yes, there certainly is. The resulution you can zoom down to isn't exactly great. Have a look at the image to the left. This would be Korneuburg's power plant. And compare it to these pictures. The four circles on Google Earth are the silos, that other thing is the plant itself. I captioned them for clarity.
If I wouldn't know the real thing (location: 48°19'53.14" N, 16°20'20.83" E, elev 546ft) I wouldn't know it from the Map.
Another thing I don't quite uinderstand: Why does Google Earth always start at America? My IP address should be obvious to Google Earth so it should be able to find my location, too. And that would be the perfect starting point, wouldn't it? At least some where in Europe.