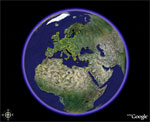 Google Maps is a huge success. And a nice example for another successful Google application. Too bad that there are only maps about US and UK.
Google Earth is the next cartography attempt of Google. And it's even more successful. It is apparently so successfull that Google even had to temporarily disable the download of it. Download? Yes, it's a windows program, based on Direct X.
Where to go from here
www.tourismturkey.org/
'>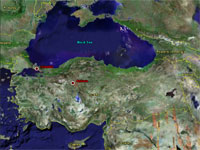 Turkey
The next step would of course be Google Galaxy. Or Google Milkyway, if that doesn't result in a law suite. I'd like to be able to surf on the Mars, on the Moon or even on Uranus like I can on the Earth with Google Earth.
And it would be nice to be able to zoom out to the Galaxy or even further out, for example. The data needed for that is available already.
The next thing I noticed is the lack of buildings. Isn't there data available about buildings in Austria, for example? The target audiences for Google Earth include defense, intelligence and homeland security -- they'd probably like to look at buildings as well.
Then, last but not least: How about including the roadmaps of Europe from Google Earth in Google Maps, too?
Further reading
That's where I found out about Google Earth
How Google aquired Keyhole to create Google Earth
Microsoft's answer. Will debut in Summer 2005. That's now. :-)
A similar project like Google Earth.